Bebo's Web Page
Wire-haired Pointing Griffon : : Male : : Young : : Large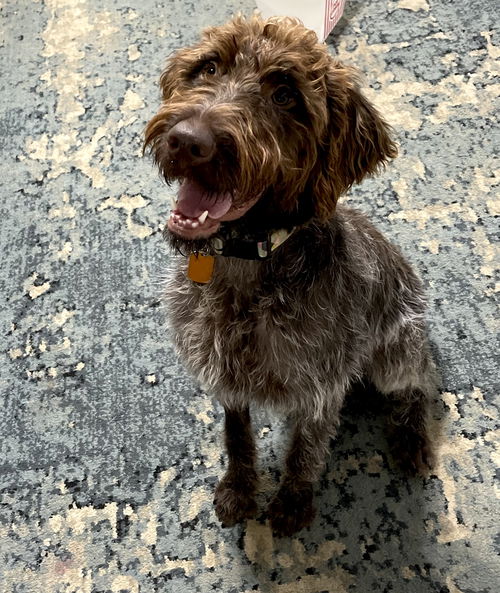 Learn more about the Wire-haired Pointing Griffon.
About Bebo

Status:

Adopted!

Adoption Fee: 500.00
Species: Dog
General Color: Brown/Chocolate
Current Size: 60 Pounds
Current Age: 2 Years 1 Month (born on 6/23/2020)

Fence Required: Yes(6 foot)
Housetrained: Yes
Obedience Training Needed: Needs Training
Exercise Needs: High
Grooming Needs: Low
Shedding Amount: Moderate
Owner Experience Needed: Breed
Reaction to New People: Friendly
Bebo is looking for the perfect WPG loving home.
He is smart, handsome (it's not his fault inexperienced people shaved him), energetic, and eager to work for you. His first year of life didn't go as planned and he found himself in dire straits. To make up for that we have promised him a family that loves the breed, promises to train him, understands his natural abilities, and makes him a part of the family.
Griffs require consistency, instinct appropriate exercise, a gentle hand, a sense of humor, and a love for a mussy beard!
If you've got solid experience and are looking for a fabulous boy with tons of potential to add to your pack, ask to meet Bebo
retrieveafriend.org/adopt

SPECIAL NOTE: Applications outside the state of Texas require exceptional qualifications that meet or exceed our minimum listed under the adoptions page on our website, and in addition must include solid breed experience, veterinary references, a training commitment, and a willingness to travel for more than one meeting in person. To request an exception please email adoptions@retrieveafriend.org in advance of completing our application process.
More about Bebo
Good with Dogs
,
Not Good with Cats
,
Good with Kids
,
Good with Adults
,
Requires a yard
,
Cratetrained
,
Playful
,
Eager To Please
,
Intelligent
,
Goofy
---
How do I adopt?
If you are interested in adopting from TSBR - please review our adoption process. We require an application and home visit prior to being considered for adoption.
TSBR is a foster based rescue program and does not have a shelter or facility. Only approved adopters may meet our dogs outside of a public event.
---
The mission of Texas Sporting Breed Rescue, Inc. (TSBR) is to provide for the welfare, shelter and adoption of lost, abandoned, neglected, or homeless dogs and puppies, specifically; The American Kennel Club (AKC) defined sporting group breeds - Retrievers, Setters, Pointers, Spaniels, Vizlas, Weimaraners, and Spinone Italianos; to promote the responsible care of companion animals, to actively promote spaying and neutering as the most humane means of animal control; to support heartworm education and treatment; and to provide training and education to the public related to topics such as: animal welfare, responsible dog ownership and breed information.